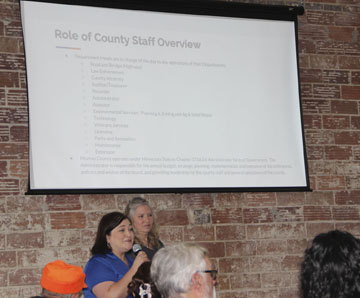 By Norma Dittmann
Murray County News staff writer
Knowing that wind energy development calls for the engagement of Murray County community members, the Institute for Agriculture and Trade Policy and the Jefferson Center collaborated to host a three-day Murray County Energy Dialogue on Thursday, Friday and Saturday, February 20, 21, and 22nd. The event took place at the Silverberg Building in Slayton.
Beginning on Thursday, a presenter from the Great Plains Institute spoke about energy development. Great Plains Institute is an organization of leaders and experts who are dedicated to engaging and collaborating with people, organizations, and communities to bring about nonpartisan, pragmatic energy solutions that are beneficial to the economy and the environment.
Friday's presentations included Heidi Winter, Murray County Auditor/Treasurer, and Jean Christoffels, Murray County Zoning/Environmental Administrator presenting information regarding finances in Murray County and how the decision-making process regarding them works. 
Also speaking about economic resilience was Murray County Commissioner, Dennis Welgraven.
The afternoon workshop presenter was Mark Lennox of NextEra Energy, which is the world's largest producer of wind and solar energy.
Saturday's sessions allowed time for discussion, questions, and answers among the panelists.
To read the rest of this article – pick up a copy of this week's Murray County News or subscribe to our e-edition at http://eedition.murraycountynews.net/sub/account_login.asp.