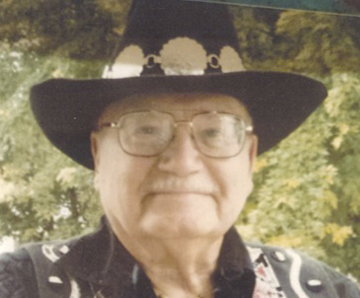 1932 – Gerald "Doc" W. Schwarz – 2020
  Gerald "Doc" Schwarz, the son of Chas "Charlie" and Anna (Gehl) Schwarz, was born on May 7, 1932, in Fulda, Minnesota. He grew up in Fulda and attended St. Paul's Lutheran School and the Fulda High School, graduating in 1950. Doc then attended Gustavus Adolphus College before entering the U.S. Army in 1951. He served in the service until his honorable discharge in 1954. Doc then attended Dunwoody Institute graduating with an Electronics Degree. Doc was united in marriage to his high school sweetheart Gertrude Carlson on November 14, 1959, in Dundee, Minnesota. After their marriage, they made their home in Minneapolis, Minnesota. In 1961 they returned to Fulda where he started Schwarz Manufacturing, which he developed the snaro, fishing lures, tree stands, the tackle box vest among other items. Over the years Doc played bass guitar for five bands: Galaxies, Posse, Banditos, Canyon Creek Band and Trailblazers. He recorded a record with the Banditos. Doc remained at their home after Gert's death in March of 1993. He continued creating new items while he worked at the Fulda Insurance Agency. Doc passed away on Monday, March 2, 2020, at the Maple Lawn Senior Care Center in Fulda at the age of 87. He was a member of St. Paul's Lutheran Church in Fulda. Doc also belonged to the Fulda VFW Post 9017 and American Legion 319. He also belonged to Fulda Community Club, Fulda Area Credit Union Board, Iron Horse Motorcycle Club, and Fulda Theatre. Doc's biggest passion was for the Fulda Heritage Society, where he was instrumental in its progress in preserving the past and present of Fulda. He enjoyed metal detecting, fishing and doing Karaoke.
Survivors include his daughter Joselin (Lee) Pals, Henderson, NV; granddaughter Steffanie Pals; sister-in-law Lola Schwarz. He was preceded in death by his parents; wife; two brothers: Ivan and Orville and one sister Elaine Barr. 
A Celebration of Life will be held at a later date. Burial will be at St. Mary's Cemetery in Dundee, MN. Send condolences online at www.totzkefuneralhome.com.