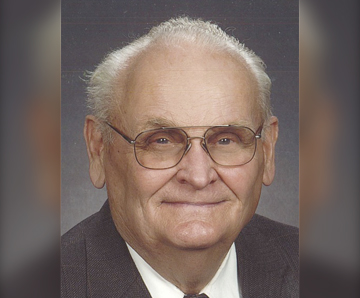 1928 – Charles Douglas Nelson – 2020
Charles Douglas Nelson was born on October 25, 1928, on the family farm north of Slayton, Minnesota in Mason Township, Murray County to Frans Dewey and Nora Viola (Larson) Nelson. He was the oldest of six siblings. Charles worked very hard helping his parents on the family farm. In February 1951 Charles enlisted in the United States Army. Following his honorable discharge in February 1953, Charles returned to working the family farm. In 1956, he purchased 160 acres in Lake Sarah Township. Charles met Margaret Ann Tammeus on a blind date in September 1958. Charles and Margaret were united in marriage on July 4, 1959, at the country church, Immanuel American Lutheran Church, located in Pfingsten (rural Fulda) Minnesota. One of Charles and Margaret's first hurdles was finding a house for the family to live. Charles owned a farm, but no house. Charles offered to live in Slayton and drive to the farm on a daily basis. However, Margaret would not agree as she was teaching five days a week and chores on the farm were 365 days a year. The solution was clear when Charles agreed to rental terms with a neighbor living less than a mile from the quarter section of land. The home was small, they called it their "cracker box." This was the first home of Charles Allen who was born in November 1960. Charles, Margaret, and Charles Allen were quickly outgrowing this home, as Karen was to arrive in January 1963. The Sagmoen farm site became available in November 1962. Charles and Margaret purchased the building site and north 40 acres where they raised five children, Charles Allen, Karen, Lois, Ruth, and Donald. This was their home until October 1997 when they moved to a home on Redwood Avenue in Slayton. They lived there until moving to Sunrise Terrace in Slayton December 2014. Charles enjoyed farming, spending time with family and friends, and visiting with virtually anyone who wanted to have a conversation. Charles was extremely proud of his children, their spouses, grandchildren, and great-grandchildren. Due to failing health, Charles moved to Our House Hospice in Slayton where he passed away Sunday, March 8, 2020, at the age of 91. He was a member of Christ Lutheran Church in Slayton where he served as an usher and on several church committees. He also was a member of the Slayton American Legion Post. Charles volunteered with Neighbor to Neighbor (a group organized by Southwest Minnesota ELCA Synod to help farmers during the farm crisis), with Murray Friends (a group organized in Murray County), 4-H, Murray County Hospice, Shetek Lutheran Ministries, and also served on the Slayton Community Chest Board for over 20 years.
Survivors include his wife Margaret Nelson, Slayton, MN; five children: Charles Allen and Diane Nelson, Zumbrota, MN, Karen, and Dean Husfeldt, Andover MN, Lois and Eric Rongstad, Brooklyn Park, MN, Ruth and Travis Fawcett, Sioux Falls, SD, and Donald and Mary Nelson, Sioux Falls, SD; nine grandchildren: Jonathon Nelson and Deanna Tollefson, Susan and Isaac Ydstie, Laura Nelson; Matthew and Cassie Husfeldt, Nichole and Zach Salfer; Tyler Fawcett, Carter Fawcett; Rachel Nelson, Megan Nelson; four great-grandchildren: Penelope Husfeldt, Maria Ydstie, Joana Nelson Tollefson, Ethan Salfer; three siblings: Mayme and Larry Halverson, Marshall, MN, Beverly Gylling, Tyler, MN, and Shirley and Pat Brosseau, Cottage Grove, MN; and four sisters-in-law: Jeaneen Nelson, Slayton, MN, Vera Peddycoart, Venice, FL, Dorothy Gustafson, Ramsey, MN and Marilyn Brink, Sioux Falls, SD. He was preceded in death by his parents; two brothers: Donald and Daryl Nelson and six brothers-in-law: Roger Gylling, Johnny Tammeus, Ed Heim, Raymond Peddycoart, Mike Gustafson and John Brink.
Memorial services were held at Christ Lutheran Church in Slayton, MN on Tuesday, March 10, 2020, at 10:30 a.m. with Rev. Dale Degner officiating. The organist was Gwen Degner. Interment is at Slayton Memorial Garden in Slayton, MN. Military honors accorded by the Slayton American Legion Post and the Slayton VFW Post. Totzke Funeral Home of Slayton was entrusted with arrangements. To send condolences visit totzkefuneralhome.com The family requests memorials be given to Shetek Lutheran Ministries, Christ Lutheran Church or Our House Hospice in Slayton.