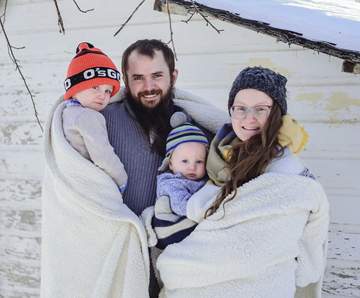 By Norma Dittman
Murray County News staff writer
Everyone has a dream that they really want to see come true. For Chelsea Hein, that dream was to own and operate a bakery in southwest Minnesota. With determination filling her mind, she set about making her dream come true!
Hein has lived in Fulda for the past two years. Every week, she makes cakes, cookies, and macarons, while at the same time putting smiles on people's faces as they enjoy her sweet bakery delights.
Hein is formerly from Heron Lake, MN, and is well-known as the daughter of Dave (Oley)   and MaDonna (both deceased) Hullerman. She is a graduate of Mankato West High School and is married to Tim. The couple is parents to Gray (3 years old) and Oley (6 months). 
Hein participated in Postsecondary Enrollment Options  (PSEO) while finishing high school, which took her to Mankato.  She has always had a passion for business, and finished college at the University of Minnesota Crookston, earning a Bachelor's Degree in Business Management. 
"Originally, I thought that I was going to be an actuary, and I was going to go to New York, because I love people, and New York is so filled with people," Hein explained. "But somewhere in there, I realized that cubicle life was not for me. I've always had a calling for the kitchen, and I knew I wanted to run my own business. I believe I got that from my parents. Dad always had an entrepreneurial spirit, and mom was always baking in the kitchen."
Hein said that her love affair with baking started when she was a little girl and spent large amounts of time with her mom in the kitchen. "I have really fun memories of our family gathered together at the table. Mom would plop kuchen dough in the middle, put different fillings within reach, and we would have fun rolling out the dough, putting in fillings and diapering the kuchen," Hein stated.
To read the rest of this article – pick up a copy of this week's Murray County News or subscribe to our e-edition at http://eedition.murraycountynews.net/sub/account_login.asp.